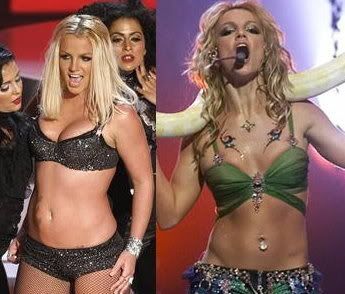 Comeback appearance? Or embarrassment? Britney Spears' opening for the MTV Video Music Awards was supposed to be the former, but it seemed more like the latter. Not only was her performance poor, but she looked really out of shape. Take a look at her tonight (left) and in 2001 (her heyday, of course). On the right she look sexy and hard-bodied, and while many would love to have her current body, it's just not the same.

And back to the performance - she lip-synched (obviously) to her new single "Gimme More," and while I really wanted to see her do well, to start getting her life and career back together, I saw no energy in her performance.

It seemed like she was either bored, or quite honestly, drugged. The audience seemed just as isinterested in the performance as she was.

Comeback, no way. I hope she doesn't fall off the deep end when she reads some reviews.
Source: snafu-ed.blogspot.com